Новости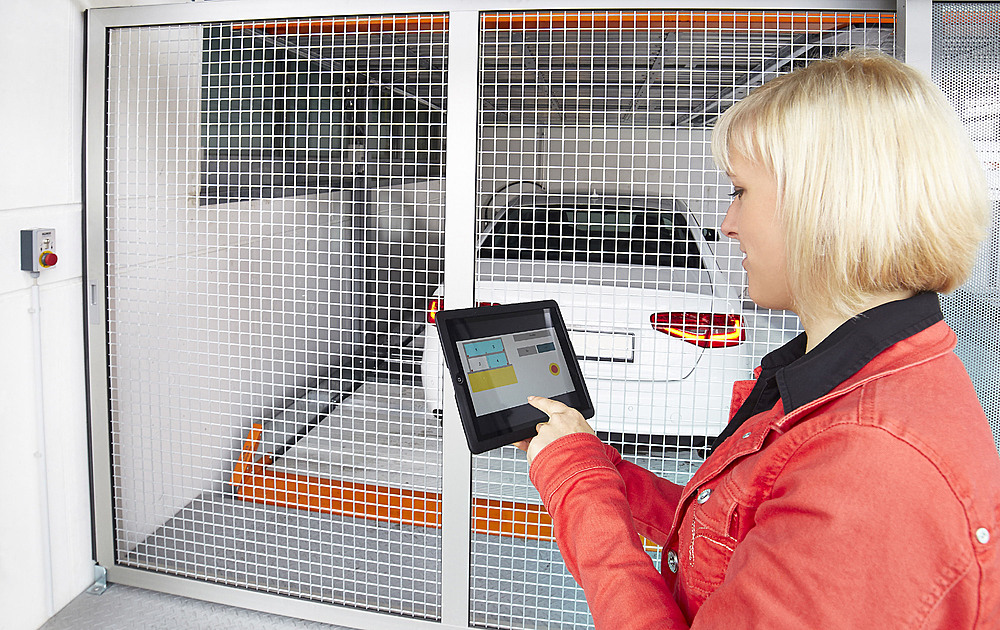 iParker
iParker project by Klaus Multiparking
Parking system specialist from Aitrach to present futuristic parking solution at BAU exhibition 

Intelligent systems are enjoying a boom throughout the home automation sector. At the BAU 2015 exhibition in Munich, KLAUS Multiparking will be demonstrating the implications of this trend for the parking solutions of the future. As one of the leading manufacturers of premium parking systems, Klaus Multiparking will present its iParker project, the first intelligent MultiBase Parker with the globally unique electro-hydraulic synchroniser (Hall 3, Stand B303).The research project is being sponsored under the "Central Innovation Programme for SMEs" (ZIM) in the individual project category. 

According to Günther Seiderer, Managing Director of KLAUS Multiparking, "iParker takes parking solutions to a whole new level. Not just because it allows exceptionally user-friendly, smartphone-assisted parking in single and multi-occupancy buildings. With the electro-hydraulic synchronous system, our developers have achieved nothing short of a technical revolution. Compared with existing systems with mechanical synchronisers, it allows a substantial weight saving of up to 200 kg per MultiBase system". 

Since the new design dispenses with lubricants, oils and a large proportion of wearing parts such as gearwheels or bearing bushes, the iParker systems are more eco-friendly, lower-maintenance and generally more economical than conventional systems. Each parking system saves 200kg steel alone which, based on a volume of 10,000 parking spaces, translates to an annual material saving of around 1,000 tons. By comparison with ordinary parking systems, less energy is required per system for production and also of course for transportation. 

The new electro-hydraulic synchroniser system features intelligent sensor technology which measures the position of the parking platforms continuously and sends balancing signals to a control unit. As Technical Manager Norbert Fäßler explains, "Should the platforms be at risk of tilting, the hydraulic flow in the lifting device is readjusted by valves in a fraction of a second. That way the platforms stay horizontal at all times". For added safety, the system switches itself off in case of overloading, and in the event of a fault the iParker system not only alerts the user but also – if required – issues an automatic request for a service engineer. 

With its intelligent control and sensor system, the iParker from KLAUS Multiparking opens up a whole new dimension in user convenience: in future, home owners will be able to check on the location of their car at any time via an app on their smartphone, tablet or PC. "What's more, the app controller lets you get your car ready to go while you're still indoors putting your coat on or saying goodbye to the family", says Sales Manager Thomas Baumgärtel. And you can enjoy the same convenience when you get home: press the app button at the right time and you'll find the empty parking platform ready and waiting, thus saving you even more time. "That's what you call Park & Smile", says Wolfgang Schuckel, also Managing Director of KLAUS Multiparking. "It's what we're all about – coming up with innovative ideas to maximise parking convenience". 

And it's not only the users who benefit, but also residential property companies, owners' associations and investors seeking to offer intelligent parking solutions for their tenants. "As a provider, it makes sense for us to exploit the potential of digital technology for parking as well as housing", says Günther Seiderer. "That way we project an innovative and forward-looking image. This development is still nowhere near complete, and we're determined not to get left behind". 

Indeed, KLAUS Multiparking is already poised for the next step: so far the iParker project has focused on the MultiBase parking systems with single and double platforms for up to four vehicles; the next stage is to broaden the concept to semi-automatic parking systems of the TrendVario type. 

About KLAUS Multiparking GmbH: 
With around 600,000 parking spaces installed and 65 sales partners on all continents, KLAUS Multiparking, headquartered in Aitrach (Baden-Württemberg), ranks among the leading suppliers of vehicle parking systems. Klaus Multiparking provides innovative solutions for dependent or independent parking, such as for example double parkers, duplex parkers and stack parkers. The company is primarily known for its multiparking systems of the MultiVario and MultiBase type, the semi-automatic TrendVario parking systems and the various fully automatic MasterVario parking systems, enabling space-saving parking in the form of shelf, tower or layer systems as well as lift/shuttle systems. Single platforms such as SingleVario and SingleUp and various underfloor systems also form part of the product range. For the past 50 years, all Multiparking solutions have been produced exclusively in Germany, subject to the highest quality standards. Premium parking systems by KLAUS Multiparking are tailored to individual requirements. They make efficient use of the space available and enable comfortable driving in and driving out. 
The company employs a total of 140 staff in the Aitrach production works. It has already won awards for its innovative ideas such as the MultiVario parking system, including the Innovation Prize of the Federal German State of Baden-Württemberg. The history of KLAUS Multiparking GmbH goes back to 1907, when Klaus was founded as a wheelwright's shop in Bad Tölz (Bavaria). KLAUS Multiparking has been making parking systems since 1964.